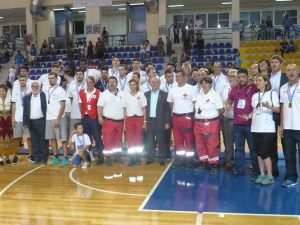 The European Young Men's Basketball Championship, which was praised by Greeks and foreigners as one of the most well-organized events, concluded on Sunday evening, July 24 in Chalkida.
The representatives of FIBA, the Greek Basketball Federation, of the teams which took part and the referees and commissars, expressed their gratitude for the excellent organization and hospitality by the municipality of Chalkida and the Municipal Organization for Athletics, Culture and Environment (MOACE).
But the credit was attributed foremost to the fans of Chalkida, for their support to the young members of the Greek team and their wholeharted celebration for the Greak team managing to win the bronze medal and subsequently being promoted to Category A of the European Young Men's Basketball Championship.
To put it to the words of the Greek team's coach Elias Papatheodorou : "Whatever you say cannot grasp the enthusiasm of the fans. I never remember such a tremedus response from the very first day of any tournament in Greece. The love that we have experienced on and outside of the court. I believe that Chalkida is a city that loves basketball and hence the Federation often decides to bring here (i.e. Chalkida) various events. A huge thumbs up for all these people for their support both in good and bad moments for the team. We will always be indebted the coaches, players and the Federation, to this audience.
Along with Greece, Montenegro and Iceland were promoted to Category A.
The awards to the winning teams and players who have excelled, were presented by the Mayor of Chalkida Mr. Christos Pagonis, Hellenic Basketball Federation Secretary General Panagiotis Tsagkronis and FIBA representative Mr. Zois.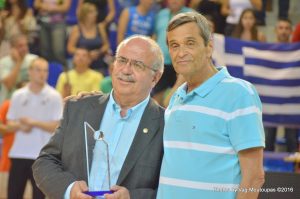 In his short farewell speech at the closing ceremony of the Championship, the Mayor congratulated all the teams for their performance and also thanked everyone who contributed to the success of this tournament.
The Mayor received from the Treasurer of the Hellenic Federation Dimitris Bashouis the award for the excellent preperation of the games.
The final ranking of the teams that took part in the European Young Men Basketball Championship reads as follows:
1.Montenegro
2.Island
3.Greece
4.Croatia
5.Bosnia Herzegovina
6.Poland
7.Great Britain
8.Georgia
9.Russia
10.Rumania
11.Portugal
12.Irland
13.Belorussia
14.FYROM
15.The Netherlands
16.Slovakia
17.Armenia
18.Bulgaria
19.Esthonia
20.Kosovo
21.Albania